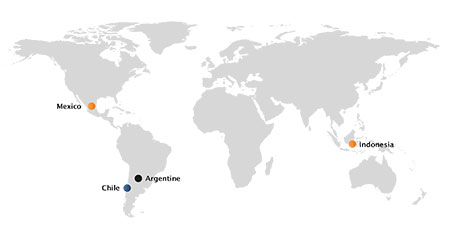 Arenal is very pleased with the expansion this summer, in which a large number of customers started with the evaluation and implementation of our products.
The new customers in the last two months include the biggest Tungsten mine in the world which is located in Vietnam, a large Gold mine in Papua New Guinee and Peru, and the largest slurry pump manufacturer in the world from Australia.
In August our system is also being evaluated at the world's largest dredging company in Amsterdam and another unit is supplied to a tunnel manufacturer in France: the unit was successfully commissioned by our service engineer Rishal in Hong Kong. Those last two orders came from our new distribution partner STI BV (Sludge Treatment International BV), who is focused on the world wide dredging applications mainly.
We also very happy with the repeated orders from Brazil at a chrome mine and iron ore mine. Our focus in the next month is successfully commission the above projects as well as the several projects in Morocco.
Arenal is still looking for distributors in Chile, Argentine, Mexico and Indonesia. If you are interested please contact Arenal.