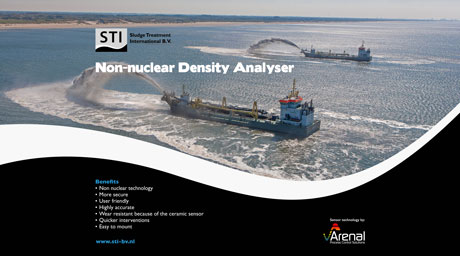 STI is our exclusive worldwide distributor for dredging and tunneling applications. You can meet us at booth 1616 at the Europort Exhibition next week in Rotterdam, The Netherlands.
The STI solution for Slurry Density and Slurry Massflow Monitoring applications are now successfully introduced and firmly evaluated in the dredging industry. Projects at IJburg 2 and Markerdijk (Netherlands) are running very well without the need of yearly recalibration. Our latest project in Kitimat (Canada) in under commissioning phase now.
The combination of STI/Arenal create the first and only opportunity for dredgers to apply proven ultrasonic spectroscopy with unique full body ceramic sensors on their ships. The ceramic sensor combination offers Specific Gravity, Density, Total Suspended Solids, Temperature, Flow rate [m/s] and [m3/h], Mass flow rate slurry, Mass flow rate solids and cummulative production of slurry and solids after pressing the "start-button on the screen". The HMI offerst a clear crossmeter among reports for the captain and remote management. The unit is remotely controllable by the Modbus TCP/IP interface and by VPN. STI also offers dedicated assistance in case of commissioning, calibration assistance and client specific solutions, like heat tracing for cold environments, remote monitoring, and Industry 4.0 integration.
We love to explain our technology to you! Our first opportunity is the exhibition Europort next week: From 5 - 8 November 2019 Europort, organised in the world port city of Rotterdam, will be the leading exhibition for special purpose vessels. Europort is the business hub for the maritime sector, as the event focuses on specialised ships and the smart solutions which drive success.
Looking forward meeting you in Rotterdam next week on booth 1616.